If you're in charge of hiring commercial landscapers you know it's a jungle out there. One does this, another does that. And weeding out the good from the bad is a chore in itself.
At Mainguy we do this, that and all those other things you need done from time to time. And we do our best to get 'em right every time – with skilled crews and specialists who know how to keep your grounds looking great year 'round.
Sound good? Then please, read on. And see why property managers throughout South Florida are proud to say, "Mainguy is my go-to guy."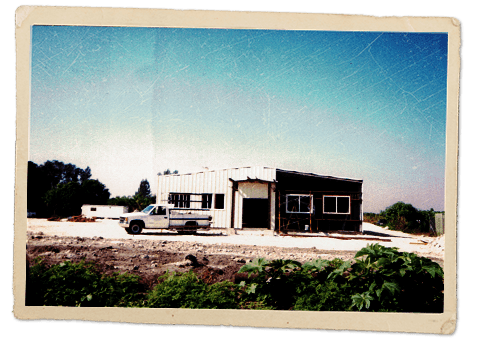 In 1999, while the rest of the world was fretting over the Y2K bug, two brothers in Broward County were focused on a matter closer to home. Having made their marks in the corporate world, Rob and David Mainguy were eager to build on their family's well-established name by bringing a more disciplined approach to the business of commercial landscaping – one built on quality, value and integrity. It seems they were onto something. Today Mainguy serves communities throughout South and Southwest Florida with new service centers cropping up every season.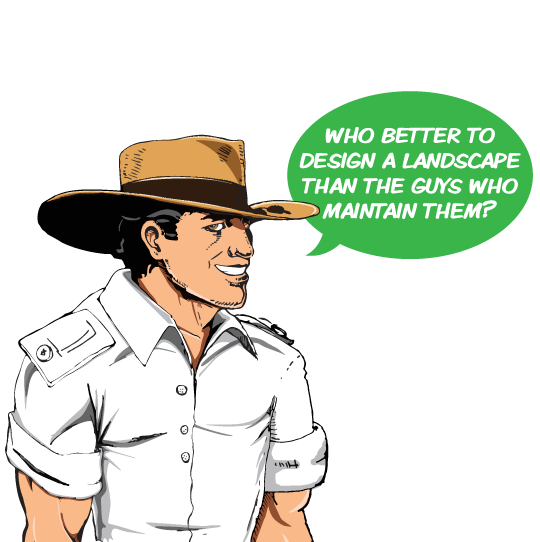 I

f it's on your grounds it's in our wheelhouse…
Grounds maintenance and horticultural services
If you can seed it, sod it, feed it, weed it, clip it, snip it, prune it, preen it, grow it or mow it we can do it.
Whatever the size of your property or the scope of your needs Mainguy will help you design a routine maintenance program you can pretty much "set and forget."
For a free, no-obligation grounds maintenance proposal, simply give us a call or fill out our Proposal Request Form.
Landscape design and installation
Do your grounds need a little sprucing up or are you starting from scratch?
From minor make-overs to complete do-overs, Mainguy can design or install landscape projects of any nature.
Whether we're implementing our plan or yours, we'll make sure that what looks good on paper looks even better on your property – by incorporating plants and materials suited to your environment.
Our experts carefully analyze everything from soil to sunlight to help you make the choices that will make the most of your land and budget – and be cost-effective to maintain.
Just give us the go-ahead and it's as good as done. Our crews have the equipment and know-how to get your new (or simply improved) landscape up and growing fast.
And whether it's a major installation or a minor improvement, we don't just love it and leave it.
We nurture all new plantings until they're well-established. It's why we offer the best warranty in the business.
Tree trimming and arboricultural services
A lot of customers first learn about Mainguy when looking for professional tree trimming and removal – something we've become somewhat famous for in South Florida.
Our crews come equipped with the skills and tools it takes to perform the job safely and swiftly – and leaf nothing behind. (Sorry, a little tree-trimmer humor.)
But our tree services don't stop there.
Mainguy also has a deep bench of nationally-certified arborists who are uber-knowledgeable about every tree species found in our region.
Proactive in nature, these experts know what to look out for above (and below) the ground – and can nip any problems in the bud by prescribing a routine maintenance program that will help keep your trees healthy and your property hazard-free.
For a free tree care proposal, call or complete our Proposal Request Form.
Our licensed arborists have the certificates to prove it. And those things don't grow on trees.
Irrigation systems repair and maintenance
Who needs a "Sprinkler guy" when you've got Mainguy? Just say the word and one of our irrigation specialists will inspect your system monthly to make sure it's working at peak efficiency.
Our guy can often fix leaks and make tweaks on the spot – helping to ensure you never waste water or money.
Turf and ornamental fertilization and pest control
Unlike "Audrey," the vocal Venus flytrap in "Little Shop of Horrors," most plants won't ask you to, "Feed me!"
But they all need nourishment just the same.
Mainguy can recommend a fertilization program tailored to the specific demands of your soil, turf and ornamentals. We can even provide disease control and deep root fertilizations.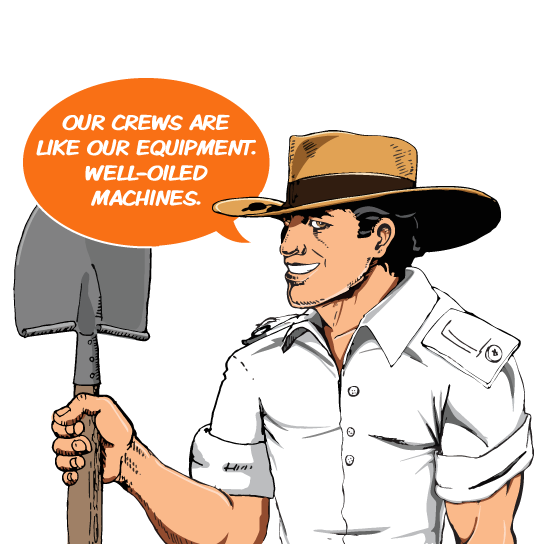 No one wants every Tom, Dick and Harry walking onto their property. Unless Tom, Dick and Harry happen to work for Mainguy – in which case you know they're vetted, tested and trusted.
We carefully screen all prospective employees and provide those we hire with the training they need to perform their duties in a proficient, professional manner.

You always get our "A" team. Homegrown talent that's nurtured every step of the way. We never outsource, subcontract or use "temp" help.
As they say, "When you want something done right, do it yourself."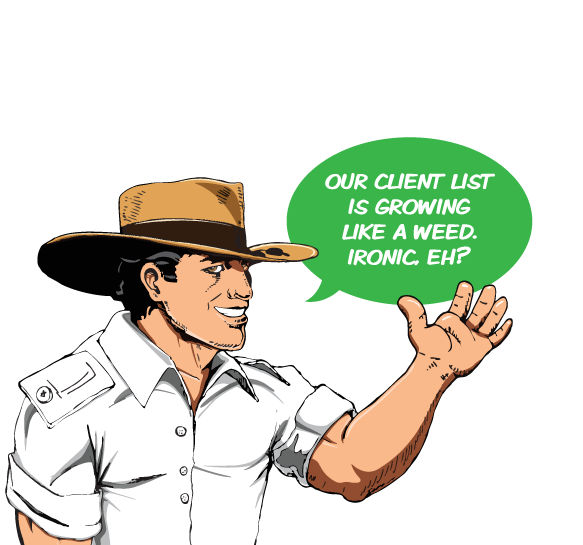 Locally owned and operated, Mainguy has the resources to handle jobs of any size or scope.
Among our customers are:
Homeowners associations
Condominium associations
Commercial office parks
Municipalities and other government entities
Apartment communities and retail centers
Hotels and resort properties
Community development districts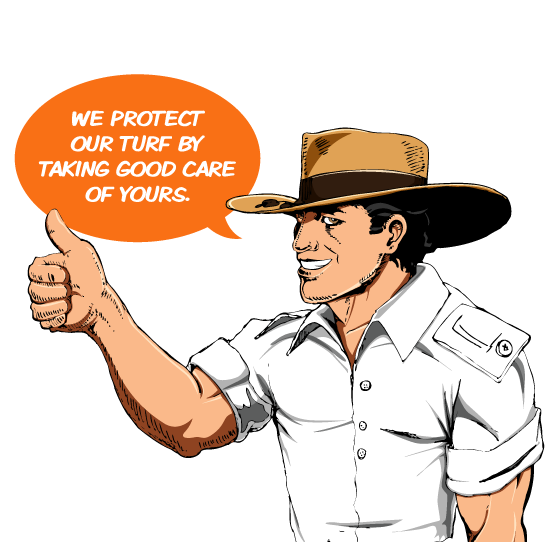 Every Mainguy guy (and gal) has a unique set of talents. But they all share one thing in common: a commitment to our core values and code of conduct.
Treat others with courtesy and civility
This includes customers, vendors, co-workers and all those with whom we interact while performing our duties
Communicate honestly and accurately
We will never overstate or otherwise misrepresent our true assessment of a customer's landscaping needs or the benefits of services we provide
Honor agreements and strive to be agreeable
We work closely with customers to deliver tailor-made solutions suited to their specific preferences and budgets
Never exploit an emergency for financial gain
We will never upcharge for services should an existing customer require urgent assistance following a storm or other weather-related event.
Never compromise safety for the sake of expeditiousness
Our crews work swiftly and efficiently, but we reserve the right to suspend work in the presence of dangerous weather conditions.
Contact Us
We currently provide a full-range of services in the following markets:
Fort Lauderdale
Miami
West Palm Beach
Jupiter/Stuart
Naples
Fort Myers
Sarasota
In addition, we are working hard to launch offices in additional locations throughout Florida.
To receive a complimentary written assessment and proposal, please call us at (877) 741-3030 or contact the office nearest you. You can also request a proposal online by clicking here.
Our Locations
Corporate Headquarters
1855 South Flamingo Road
Davie, FL 33325
Tel (800) 224-2314
South Florida Branch Office
Tel (954) 741-3000
Fax (954) 472-4990
Palm Beach Branch Office
Tel (561) 841-2300
Fax (561) 841-2303
Naples/Fort Myers Branch Office
Tel (239) 687-2600
Fax (239) 687-7900